Tudy McLain
Harp, Flute, Pennywhistle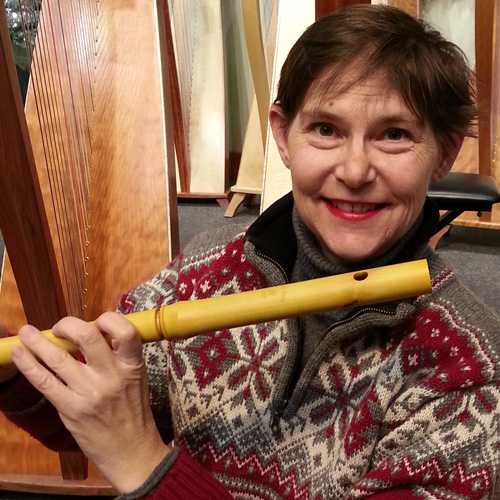 "I excel with two types of students," says Tudy. "The first is the student who needs help boosting his or her confidence level. Free yourself from feeling hassled, harried, arthritic, timid, or 'untalented'! There is no pressure in my teaching style. Practice when or if you can, and our emphasis will be on tone production and developing technique to find a magical quality in your sound. (I use the Salzedo method, if that means anything to you.) The goal will be to have harp in your life forever!"
The second type of student is the intermediate to advanced student who wants to break into the world of performance—whether just at church, for friends or parties, or professionally. The emphasis is less on technique and more on "how to get out and hustle. We have a good time!"
Susan, or Tudy as she also known, is the founder of Greensleeves Harp Music, providing professional harp music to the Pacific Northwest for over twenty-five years. A past principal harpist with the Seattle Philharmonic, and holding a degree in music from the University of Washington, Susan has performed and recorded Celtic and concert harp music with Beth Kollé, Michael MacBean, Laurie Riley, and many others.
She's taught at the International Folk Harp Conference and the Vashon Island Harp Camp and has performed at over 2,000 weddings. Serving seven years as President of Seattle Musicians Association Local 76-493, Susan was also appointed by Governor Locke to serve on the Washington State Arts Commission and Strategic Plan for the Arts, where she championed improved working conditions for folk musicians. Susan has also played Irish flute and pennywhistle for over thirty years.
Ages: All
Levels: All
Specialties: Celtic, Irish
Availability: Tuesday and Thursday afternoons and evenings
Rates: $45 for 30 min, $55 for 45 min, $65 for one hour
Website: greensleevesharp.com
---
Three musical notes showed Tudy McLain her life's path
Equally at home in the worlds of pedal and folk harp, Irish flute and pennywhistle, Dusty Strings Music School teacher Tudy McLain always has fun and interesting stories to share.
When were you first introduced to the harp and what got you "hooked"?
I got hooked accidently when my best friend ordered an LP of Alan Stivell, a Breton harpist from France in 1974, called "Renaissance of the Celtic Harp." After three notes, I knew my life's path. While I couldn't find an Irish harp for a few more years, I began my studies of the pennywhistle and Irish flute, inspired by this LP. My first teachers were Nick Vorhees and Stuart Williams in Seattle. A musical life unraveled for me like thread from a spool.
What is one of your most memorable experiences as a performer?
After playing harp at 3000+ weddings, there are many memorable moments, but one in particular comes to mind. I was at Bastyr Chapel, all set to start the wedding prelude. I used the priest's private lavatory behind the alter. The door lock broke off and I couldn't get out. I yelled and banged for about 10 minutes before I was discovered. The wedding was held up as a locksmith had to be called to let me out!
Do you have any good practice tips for folk harp, pedal harp, and flute and pennywhistle players, or musicians in general?
My tip to my students is to make practicing a celebration. Set out flowers and a glass of wine, or make a fancy cocktail to sip. Or a steamy pot of tea with goodies. And remember, "comparison is the theft of joy!" Savor each note and don't hanker after signs of progress.
---
Sign Up for Lessons with Tudy