Tai Shan
Guitar, Songwriting, Ukulele, and Voice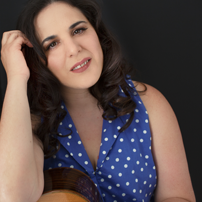 Tai Shan is an award-winning music educator with fifteen years of experience. She is known for her personable, supportive approach to teaching guitar, voice, ukulele, and songwriting. Her students have performed on stages across the United States, signed record label deals, released over twenty CDs, won Songwriter of the Year (IMTA), and Best Song of the Year for the John Lennon Songwriting Contest.
"I'm so grateful for everything Tai taught me that helped turn this dream into a reality." — Asta Wylie (student and winner of IMTA Songwriter of the Year)
Online lessons are taught using Zoom. In the first session, you will begin by setting personal goals. These are kept online and all class work is geared around them. Tai will then share a personalized Dropbox folder with all the materials you need, such as PDFs, recordings, and videos. Tai can include your lesson video as well for later review. Your homework never gets lost, you always know what you're working on, and what you need to do!
"Each lesson is filled with focus, learning, and fun regardless of my understanding of a topic or song. Furthermore, Tai has allowed me to explore songs of my own choice and challenged me in ways I didn't know possible. From 8 to 18, it's been a whirlwind of fun!" — Seina Kitch (former student)
Tai Shan is an Americana songwriter whose music has been featured in Billboard Magazine, American Songwriter, Americana UK, and on NPR. Based out of Nashville, her songwriting focuses on positive messages. Her song, "Cool to Be Weird," was chosen as the anthem for the Girl Scouts of America's Power Up Program. Her song, "Burn it Down" celebrates 100 years since the "right to vote" and was featured in Billboard Magazine. A magna cum laude graduate of Cornish College of the Arts, Tai has toured the United States, Mexico, and Canada, sung for Pope John Paul II, performed for the Bill and Melinda Gates Foundation, and at the famous Bluebird Café in Nashville. Her latest album Traveling Show was released in April 2020 and recently hit 36,000 streams on Spotify.
Ages: 7 and up
Levels: Beginner to intermediate
Availability: Monday - Wednesday afternoons and evenings; Sunday afternoons
Rates: $65 for 30 min, $75 for 45 min, $85 for one hour
---
---