Monica Schley
Harp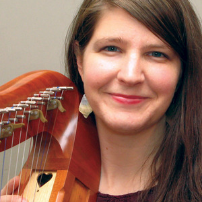 Monica Schley is a harpist, songwriter, singer, poet and band leader of Seattle band, The Daphnes. She's played harp for more than twenty-five years and enjoys playing a wide range of music including folk, classical, Celtic, jazz, chamber, improvisational, avant-garde, rock, singer/songwriter, new age, and various ethnic genres.
Performing as a side-player, she has worked with Jherek Bischoff, Ahamefule J. Oluo, Eyvand Kang, and rapper Kanye West to name a few. Orchestrally, she has played with Puget Sound Symphony Orchestra, Seattle Rock Orchestra, and Degenerate Art Orchestra. She has recorded on over a dozen albums. As a bandleader, she composes, sings and plays with her trio The Daphnes. Their album, Braids of Kabuya came out in late 2018. Her poetry chapbook, Black Eden: Nocturnes (Pudding House Press) was published in 2010.
Monica is a Certified Clinical Musician working in hospice care. She earned her bachelor's in English and music from the University of Wisconsin-Eau Claire, where she studied harp with Frances Miller, principal harpist of the Minnesota Orchestra. As a teacher, Monica has worked with Holy Names Academy, Vashon Island Harp Camp, Music Works NW in Bellevue, and Dusty Strings. She teaches beginners through intermediate harp students. Her musical method draws from folk, classical, songwriting, theory, ensemble work, deep listening, improvisation, and pop music using a Salzedo- influenced method. She thinks that everyone's learning process is a little bit unique, just like the harp!
"I see myself as a musician who happens to play the harp, not being a harpist exclusively. It is from that approach that I tap into the great mystery that is music. I believe teachers can learn from students just as much as students learn from the teacher. I welcome students of all backgrounds." – Monica Schley
Ages: 7 and up
Levels: All
Specialties: Celtic, classical, folk and jazz
Availability: Tuesday and Wednesday online, Friday and Saturday in-person by appointment
Rates: $45 for 30 min, $55 for 45 min, $65 for one hour
---
Sign Up for Lessons with Monica