Molly Bauckham
Harp
Molly's student roster is currently full and she is not accepting new students at this time. Please give us a call at (206) 634-1662 or email music@dustystrings.com so we can help place you with a different teacher from our faculty!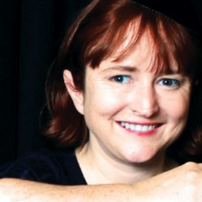 Molly's mission as a teacher is to banish the all-too-common idea that the harp is "too complicated for me to learn." Even a rank beginner can sit down at a harp and immediately make beautiful sounds. Her focus is on proper technique and finding the connection between the student's ears, eyes, and fingers. however, her passion is teaching techniques for singing with the harp.
Molly grew up in California and Hawaii and has spent her adult life in Oregon and Washington. In 1998, after earning her bachelor's in Theatre Arts from the University of Oregon's Clark Honors College, she fell in love with the harp and decided to shift her career focus from theatre to music.
Her YouTube channel, created in 2007, has attracted over 213,000 views. In early 2012 she was featured as the "cultural guest" for Celtic Harp in the Children's Music Foundation's First Note music education DVD series. That same year she was invited back to Maui to perform in the inaugural concert of the A'ali'ikuhonua Creative Arts Center at Seabury Hall (her alma mater). Molly has served as Dusty Strings' official "harp pixie" since 2001.
Ages: Adults
Levels: Beginning, Intermediate
Specialties: Harp for vocal accompaniment
Availability: Sunday afternoon, Monday afternoon and evening, Wednesday evening, Thursday evening, and by appointment
Online/In-Person: Both (proof of vaccination required for in-person)
Rates: $45 for 30 min, $55 for 45 min, $65 for one hour
Website: harpmolly.com