Michael MacBean
Harp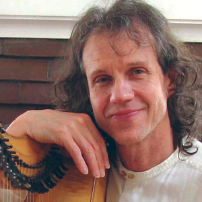 "My prime teaching philosophy in teaching harp is that almost anyone can learn to play. I have taught students from age six to mid-70's who prove that this is true. I incorporate both 'playing by ear' (and feel) and sight reading in my teaching method. Technique is important in harp playing, and I make this enjoyable for the student by using actual music pieces to teach this. Along with technique, my students learn music theory in a graduated method and can arrange their own music pieces. Whatever style of music you eventually wish to play on the harp, I'm willing to help you work toward your goal."
Michael began his harp studies in 1983 at the Sylvia Woods Harp Center in Glendale, CA. He performed and toured for ten years with Laurie Riley and later with the Celtic/Nordic group Stone Circle. He has performed, taught, and adjudicated at the O'Carolan Harp Festival in Keadue, Ireland, as well as at the Dusty Strings Harp Symposium in Seattle. He is co-founder, director, and instructor at the Vashon Island Harp School and Camp. Michael has recorded seven CDs and has performed on several others. In addition to teaching at Dusty Strings, he currently teaches at Ted Brown Music in Tacoma and Yenney Music in Olympia.
Ages: 8 and up
Levels: All
Specialties: Vocal accompaniment, improvisation
Availability: Monday afternoons and evenings
Rates: $45 for 30 min, $55 for 45 min, $65 for one hour
---
Michael MacBean on hearing the harp for the first time, facing fears, and the importance of breathing
When were you first introduced to the harp and what got you "hooked"?
I was introduced to the harp and "hooked" at the same time. One Saturday afternoon in early 1982, I was doing some chores around the house and I heard this incredible music coming from the stereo in my housemate's room. I had to stop what I was doing to lie on the living room sofa and for about twenty minutes I listened to a sound I'd never heard before. When Gary, my housemate, appeared, I asked him what I was listening to and he said the words that changed my life: "Alan Stivell, Renaissance de la Harpe Celtique." Gary told me that Stivell was from Brittany and mostly toured in Europe but that in a few months he'd be doing a U.S. tour and would be playing a local concert. We went and I was completely enchanted with the concert. I knew then that I was going to learn to play harp. Fortunately for me, one of the great harp teachers and players in the country, Sylvia Woods, was about a half mile from where I worked, so I started taking weekly lessons with her at her home studio.
What is one of your most memorable experiences as a performer?
Being invited to perform (as well as teach and adjudicate the harp competition) at the O'Carolan Harp Festival in Keadue, Ireland. It is one of the greatest honors I've had in my harp career. There were four of us playing the concert--Laurie Riley, Terese Honey, Harper Tasche, and myself--and it was one gig we didn't want to screw up! It was fairly nerve wracking since the four of us never had much rehearsal time for our group pieces and Laurie and I were kept so busy with the teaching and judging that we never got to practice our solos either. Happily, it turned out perfectly and we got a standing ovation!

Do you have any good practice tips for folk harp players, or musicians in general?
Breathe! It's something every human has to do to stay alive but that as musicians we often fail at. There is such a tendency to hold the breath when concentrating and I'm constantly asking my students "Are you breathing? If not, we need to find the other answer to why you're turning blue!" And I'm the worst offender of them all! So please remember to breathe and I'll try also. Your music and your instrument will thank you for it!
---
Sign Up for Lessons with Michael