Jonathan Shue
Guitar, Songwriting, Performance Preparation
Jonathan's student roster is currently full and he is not accepting new students at this time. Please give us a call at (206) 634-1662 or email music@dustystrings.com so we can help place you with a different teacher from our faculty!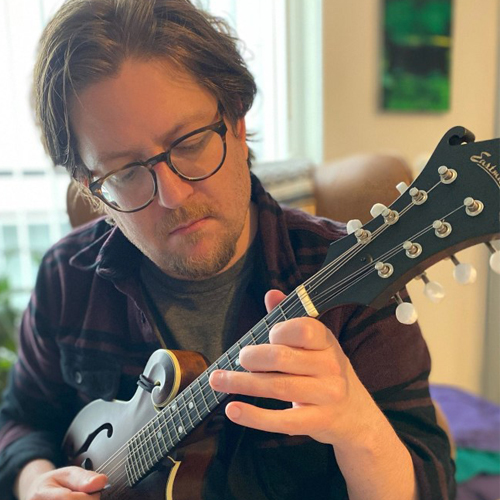 Jonathan specializes in helping students realize their singing and instrument-playing potential whether they're a total beginner or seasoned performer. He believes everyone can sing and play an instrument and that it's never too late to learn. It's all about breaking things down into small, manageable steps.
Jonathan helps students connect breath and voice, re-open the vocal channel, and re-discover their own voice. He emphasizes "the whole self," drawing upon the Alexander Technique and Kristin Linklater's groundbreaking voice work. A seasoned professional actor, musician, and singer, Jonathan also helps prepare actors and singers for auditions by offering constructive feedback, help with selecting audition material, monologue and scene work, and real-world advice on professional marketing for performers.
With guitar and songwriting students, Jonathan breaks down students' goals and helps them find a pathway toward achieving them. He helps students discover how their instrument works mechanically and musically and to build a repertoire of songs they feel confident performing. He also teaches how to sing and play guitar at the same time and can help students develop their own, original songs.
Jonathan has performed in award-winning regional theatre, toured internationally, produced three albums, and either composed or arranged music for many plays and new works. For ten years, he taught music and drama as an artist-in-residence at public schools in the San Francisco Bay Area. He has been a songwriting judge and panel moderator for the FAR-West Conference and a speaker at the NAMM Show. He is also the Education Director for Dusty Strings.
Ages: 14 and up
Levels: All
Specialties: Alexander Technique, Kristin Linklater, singing while playing guitar
Availability: Saturday afternoons
Rates: $55 for 30 min, $65 for 45 min, $75 for one hour
Website: jonathanshue.com