Jason Stewart
Banjo, Guitar, Voice
---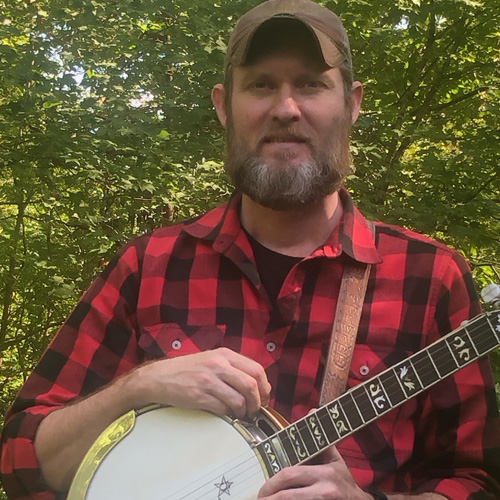 Jason is excited to share his own experience and passion for bluegrass music with new students. In his lessons, he focuses on the three-finger picking style and working towards the student's goals for the banjo, taking time for them to become familiar and comfortable with the instrument. The right hand is important, both for beginners and experienced players. Jason takes the approach of breaking down the mechanics and discussing proper hand positioning to make things work smoothly.
Jason has been playing the banjo since early childhood, growing up in East Tennessee. His musical experience has included performing at the Grand Ole Opry and performing and recording with Jim Lauderdale. He also was a sideman with James Monroe and the Midnight Ramblers. Currently Jason performs locally in the Pacific Northwest with the bands Prairie Flyer and Dysfunction Junction. He takes great enjoyment out of connecting with new folks and sharing all that he has learned.
---
Specialties: Bluegrass banjo, flatpicking guitar, bluegrass singing and harmony
Levels: All
Ages: 8+
Rates: $45 for 30 min, $55 for 45 min, $65 for one hour
Availability: Monday - Thursday, Saturday
Online/In-Person: Online only

---
Jason Stewart recalls his bluegrass roots and playing alongside Ralph Stanley, Jim Lauderdale
For many years, Jason Stewart has taught private lessons and group classes at Dusty Strings, including bluegrass banjo, flatpicking guitar, and bluegrass singing and harmony. Currently living in his home state of Tennessee, Jason's always excited to share his own experience and passion for bluegrass music with new students.
When were you first introduced to bluegrass music and what got you "hooked"?
I was first introduced to the banjo and bluegrass music in my youth by my cousin Jimmy Carter's band the Short Hill Ramblers. I remember all the other kids my age running around being kids while I was studying banjo player Steve Young. I just loved the sound the banjo made. I always tell folks, if you want it bad enough, you will learn. I just had to make the banjo sound like that. I guess it was "love at first sound!"
What is one of your most memorable experiences as a performer?
I have been fortunate to share the stage with many wonderful musicians since the age of twelve. I have played banjo in Jim Lauderdale's bluegrass band at the 10th Annual Bluegrass Nights at the Ryman Auditorium series alongside Dr. Ralph Stanley. I have also opened up the Americana Music Awards show in Lauderdale's bluegrass band. Those are just a few memorable experiences.
Do you have any good practice tips for bluegrass banjo players, or musicians in general?
Most things I believe we learn through repetition. I reference learning banjo to learning to type. When I first set in front of a keyboard in my first typing class, I witnessed everyone's fingers flying and the rapid sound of keystrokes while I was hunting and pecking my way through. I stuck with it and before long muscle memory through repetition took over and my fingers, too, were flying. There are certain mechanics with any instrument in the beginning that require patience and many repetitions. A strong desire to learn and a meditative study will always achieve results.
---
Sign Up for Lessons with Jason