Cathy Britell
Autoharp, Voice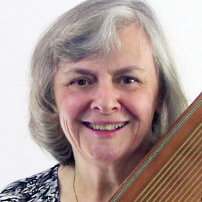 Cathy teaches beginner to advanced autoharp for all ages and also specializes in helping mature singers maximize their vocal effectiveness. She teaches the genres students are most interested in, whether old-time, country, bluegrass, Celtic, folk, gospel, or pop/rock. The autoharp student will need to bring an autoharp, an electronic tuner, tuning wrench, and picks for the lesson. Cathy and the Dusty Strings staff will assist the student in purchasing these things as necessary. The vocal student will need only to have an open mind and a gentle approach to themselves.

The first lesson for the autoharp beginner will include holding and tuning the instrument, putting on picks, and developing a steady rhythm, progressing to simple song accompaniment. For the vocal student, Cathy will work on vocal techniques and song interpretation, intonation, and accompaniment if the student wishes. She is an expert at helping people over fifty regain a strong singing voice.

Cathy is a multi-instrumentalist and singer who has played as a symphony clarinetist and taught music for fortyfive years. She's played and taught autoharp for more than twenty-five years. She's won the International Autoharp Championship in Winfield, KS, and was elected to the International Autoharp Hall of Fame in 2012. She is a member of several performance groups locally and founded the Seattle Autoharp Week. She authored the popular It's an Autoharp beginner's book and has several online offerings as well. Her philosophy is simple: have fun making beautiful music!
Ages: 10 and up
Levels: All
Availability: Please call (206) 634-1662 or email music@dustystrings.com for a referral.
Specialties: folk, old-time, Celtic, bluegrass, gospel, pop/rock, aging singers
Website: larkpoint.com