Carol Martin
Mandolin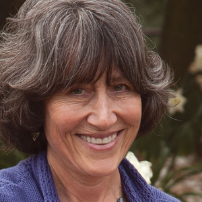 Carol helps each student find their own strengths, potential, and goals through discovering or learning the style that suits them best. Her focus is on ear training and active listening to help the student find the "feel" of the music rather than depending on a default method of playing. Beginners will learn correct mechanics, ergonomics, and timing. All students will get jamming and improvisation techniques as needed. Carol provides all new students with sound files and transcriptions (in standard notation or mandolin tablature) which get progressively more challenging as skills are developed. Basic theory is covered as necessary.
Carol is self-taught on a variety of stringed instruments and has logged many years of teaching and performing. She has a formal background in music theory, piano, and singing. She developed her teaching skills by experiencing first-hand some of the challenges that arise by not having a good instructor from the onset. Teaching by example, she gives her students the right tools so that they will learn proper technique from the beginning.
Carol gives workshops at bluegrass festivals and events such as the Old Time Fiddler's Workshop, Wintergrass, and the National Old Time Fiddle Contest in Weiser Idaho, the birthplace of her award-winning band, Noteworthy. She is a member of the Seattle Medieval Women's Choir.
Ages: All
Levels: All
Specialties: Bluegrass
Availability: Sunday and Monday by appointment
Online/In-Person: Online only
Rates: $65 for 30 min, $75 for 45 min, $85 for one hour
---
Dusty Strings teacher Carol Martin tells us how she discovered mandolin and offers her practice tips
A chance encounter in a Colorado music store inspired Dusty Strings Music School teacher Carol Martin to learn mandolin and pursue bluegrass music. Since then, the instrument has led her around the country learning, teaching, and performing with top-tier artists.
When were you first introduced to mandolin and what got you "hooked"?
I grew up on the East Coast in the 50's so I didn't hear a lot of acoustic music played on a mandolin. In my teens I played folk music on a cheap guitar. After graduating college, a friend who was manager of the Boston Tea Party, a venue for 60's rock bands, introduced me to some friends of hers up in Maine who played bluegrass. They had a good mandolin player but I went for the banjo, which was loaned to me so I couldn't take it with me when I moved. When I got to Colorado, I walked into the Great Divide Music store in Aspen, saw a mandolin on the wall and bought it. Those who ran the store sat around and played tunes when business was slow, and that's how I got started. I was hooked on fiddle tunes, carried around a piano keyboard style cassette recorder, and when I heard Bill Monroe for the first time, I dived into bluegrass. I was very lucky to have met so many musicians who showed me how to play.
What is one of your most memorable experiences as a performer?
I have had many wonderful performance experiences: Through the years, each time I've been on stage I've been encouraged to keep learning and perfecting. And there's nothing like a high volume of applause when the band wraps up! I would say that opening for Laurie Lewis at the Bellevue Meydenbauer Center in 1995 was a real highlight.
Do you have any good practice tips for mandolin players, or musicians in general?
After some time, I knew I had to concentrate on what I wasn't good at. I was left-handed so it took me a long time to correct my right hand. Along with learning the fundamentals, I believe that everyone should take lessons on an instrument, learn to evaluate yourself and find someone to play with once you get started. I always say to my students, if you have a busy life, find 10 minutes every day to practice. If you have more time, make it longer, but even short daily repetition will help to lock in technique and you will progress faster than managing only to get in 1 hour a week.
---
Sign Up for Lessons with Carol