Carol Martin
Mandolin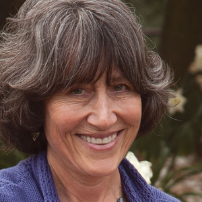 Carol helps each student find their own strengths, potential, and goals through discovering or learning the style that suits them best. Her focus is on ear training and active listening to help the student find the "feel" of the music rather than depending on a default method of playing. Beginners will learn correct mechanics, ergonomics, and timing. All students will get jamming and improvisation techniques as needed. Carol provides all new students with sound files and transcriptions (in standard notation or mandolin tablature) which get progressively more challenging as skills are developed. Basic theory is covered as necessary.
Carol is self-taught on a variety of stringed instruments and has logged many years of teaching and performing. She has a formal background in music theory, piano, and singing. She developed her teaching skills by experiencing first-hand some of the challenges that arise by not having a good instructor from the onset. Teaching by example, she gives her students the right tools so that they will learn proper technique from the beginning.
Carol gives workshops at bluegrass festivals and events such as the Old Time Fiddler's Workshop, Wintergrass, and the National Old Time Fiddle Contest in Weiser Idaho, the birthplace of her award-winning band, Noteworthy. She is a member of the Seattle Medieval Women's Choir.
Ages: All
Levels: All
Specialties: Bluegrass
Availability: Tuesday and Thursday mornings and afternoons
Rates: $60 for 30 min, $70 for 45 min, $80 for one hour