Barry Pollack
Guitar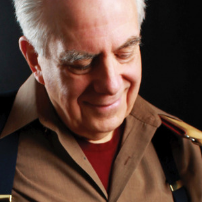 Barry works with beginners to help them start with best practices and with experienced players of all styles and levels who want to expand their musical horizons. He enjoys playing and teaching finger styles including blues, folk, jazz, classical, and Spanish guitar. Barry teaches traditional and modern approaches to song accompaniment, lead guitar, and how to arrange folk, pop, and jazz tunes for solo guitar playing. He's a master at teaching music literacy—understanding how melodies, chords, improvisation, and rhythms work on the guitar. He also teaches the monthly series The Art of Fingerstyle Guitar at Dusty Strings.
Barry has opened for or appeared with Ray Charles, Jeff Beck, Tom Petty, Bo Diddley, Heart, Mikael Baryshnikov, the Seattle Symphony, the Northwest Chamber Orchestra, the Joffrey Ballet, and the Portland Opera. He is the author of Popular Guitar Music (a Prentice Hall text book), one of the first books to use extensive transcriptions of actual recorded and popular licks, riffs and rhythms to teach how to play the guitar and understand musical ideas.
At every level of playing and learning there is a next step. He works with his students to find that next step and to guide them towards their musical and guitar playing goals. Barry's lessons are not a test of what the student did the week before but an opportunity to study and play together and get direction and inspiration for the coming week. In addition to fingerstyle guitar, Barry also specializes in musical literacy, musicianship, non-jazz improvisation, song accompaniment, and solo and ensemble arranging.
"Lessons are not a test of what one did the week before, but rather an opportunity to study and play together while receiving direction and inspiration for the coming week." – Barry Pollack
Ages: 13 and up
Levels: All
Specialties: Classical, contemporary, fingerstyle, jazz, Spanish, traditional
Availability: Tuesday, Wednesday, and Thursday mornings, afternoons, and evenings
Rates: $50 for 30 min, $60 for 45 min, $70 for one hour