Barry Pollack
Guitar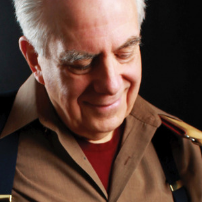 Barry works with beginners to help them start with best practices and with experienced players of all styles and levels who want to expand their musical horizons. He enjoys playing and teaching finger styles including blues, folk, jazz, classical, and Spanish guitar. Barry teaches traditional and modern approaches to song accompaniment, lead guitar, and how to arrange folk, pop, and jazz tunes for solo guitar playing. He's a master at teaching music literacy—understanding how melodies, chords, improvisation, and rhythms work on the guitar. He also teaches the monthly series The Art of Fingerstyle Guitar at Dusty Strings.
Barry has opened for or appeared with Ray Charles, Jeff Beck, Tom Petty, Bo Diddley, Heart, Mikael Baryshnikov, the Seattle Symphony, the Northwest Chamber Orchestra, the Joffrey Ballet, and the Portland Opera. He is the author of Popular Guitar Music (a Prentice Hall text book), one of the first books to use extensive transcriptions of actual recorded and popular licks, riffs and rhythms to teach how to play the guitar and understand musical ideas.
At every level of playing and learning there is a next step. He works with his students to find that next step and to guide them towards their musical and guitar playing goals. Barry's lessons are not a test of what the student did the week before but an opportunity to study and play together and get direction and inspiration for the coming week. In addition to fingerstyle guitar, Barry also specializes in musical literacy, musicianship, non-jazz improvisation, song accompaniment, and solo and ensemble arranging.
"Lessons are not a test of what one did the week before, but rather an opportunity to study and play together while receiving direction and inspiration for the coming week." – Barry Pollack
Ages: 13 and up
Levels: All
Specialties: Classical, contemporary, fingerstyle, jazz, Spanish, traditional
Availability: Tuesday, Wednesday, and Thursday mornings, afternoons, and evenings
In-Person/Online: Both
Rates: $65 for 30 min, $75 for 45 min, $85 for one hour
---
Dusty Strings guitar teacher Barry Pollack recounts opening for Jeff Beck and gives practice tips
Being prepared and knowing his audience helped Barry Pollack to win over the crowd and get the attention of booking agents. Here, he remembers his influences, recounts the stories that led to a career in music, and gives his personal practice tips for guitarists and musicians.
When were you first introduced to guitar and what got you "hooked"?
Growing up in Brooklyn, I listened to a lot of Woody Guthrie and Andrés Segovia and I remember thinking, "I want to do that." I was officially hooked when I learned my first chord, which was probably a G chord.
What is one of your most memorable experiences as a performer?
By the early 1980's, I was pretty much a straight-ahead classical guitarist with a smattering of fingerstyle arrangements in my repertoire. I received a phone call from a major west coast booking agency asking if I would be available to open a show for Jeff Beck at the Spokane Opera House. Realizing it was the same day as a gig I had playing that afternoon at Bumbershoot in Seattle, I called back and said, "I need airfare to take a plane to Spokane." I was met at the airport and driven to the stage entrance, shown to a dressing room with my name and a star on the door! The room was bigger than my apartment in the U-District. I knew my audience and attacked every piece con brio ("with vigor"). At one point while playing the Villa-Lobos Etude #11, someone shouted "nice lick!" After the show, I was interviewed by the music critic of the local paper and got more coverage in the newspaper the next day than Jeff Beck himself. I flew back to Seattle and got a phone call from the same booking agency asking if I would like to open some shows for Ray Charles.
Do you have any practice tips for guitar players and musicians?
Practice early and often. The frequency of how much you practice can be more important than duration. Try not to let a day go by without picking up your instrument and at least saying hello and playing for five minutes. Especially in the early stages of learning, minimize the time in between practice sessions. Listen and play slowly.
---
Sign Up for Lessons with Barry