Alex Sturbaum
Bodhrán, Bouzouki, Button Accordion, Guitar, Tenor Guitar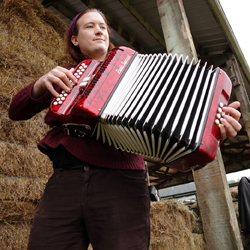 Alex Sturbaum has been playing and teaching traditional Irish and transatlantic music since 2003. Originally from Cincinnati, OH, they have gained recognition in traditional music communities all over the country for their complex, powerful accompaniment, energetic accordion playing, and sharp instincts as a songwriter. Alex now lives in Olympia, where they perform solo as well as with Countercurrent and various other contra dance and concert bands.
While deeply rooted in Celtic, maritime, and American musical traditions, Alex also embraces innovation and improvisation as a necessary part of folk music. Their playing and teaching both revolve around the balance between tradition and innovation--in other words, "learning the rules before you break them." Alex seeks to instill in each student both a respect for the tradition and a drive for the student to seek their own path within it.
As an educator, Alex emphasizes connection with the music, listening skills, and rhythm, particularly when playing dance music. Students of all ages and skill levels are accepted, and lesson styles are adapted to fit the student's need and learning style. Alex's students learn to play by ear, to learn the tunes, and to develop and sharpen their musical instincts.

Ages: All

Levels: All
Specialties: Celtic trad
Availability: Wednesday and Thursday afternoons
Online/In-Person: Online only
Rates: $45 for 30 min, $55 for 45 min, $65 for one hour
Website: alexsturbaum.com
---
Sign Up for Lessons with Alex