Feb. 1 - 22: Therapeutic Harp Playing with Monica Schley
(1/23/2020)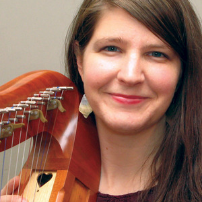 Therapeutic music has steadily grown as a professional field especially within the harp community. More and more, harpists are lending their hearts and talents to playing bedside music as well as seeking certification from programs recognized by the National Standards Board of Therapeutic Musicians.
This four week group class is an introduction to the field of therapeutic music. It is designed for beginners to therapeutic harp, those already certified or in certification programs, and for any harpist who's curious about the field and wants to know more.
Monica is a Certified Clinical Musician working in hospice care. She is a harpist, songwriter, singer, poet and band leader of Seattle band, The Daphnes.
Drop-ins welcome! Harps are available for use in class (please reserve in advance) and rentals are available for at-home practice. Click here for more information and to register.