Sunga Rose
Ukulele, Voice
Sunga's student roster is currently full and she is not accepting new students at this time. Please give us a call at (206) 634-1662 or email music@dustystrings.com so we can help place you with a different teacher from our faculty! For information about Sunga's Virtual Ukulele Jam, click here.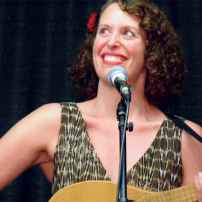 Sunga Rose is an experienced teacher and performer. For nine years, she has been the bandleader, vocalist and ukulele-strummer for the 1920s trio Miss Rose & Her Rhythm Percolators. She and her partner, Michael Alexander, form the vocal and ukulele duo, the Honeyville Rascals, which features vintage Hawaiian jazz and their own jazz/blues/folk originals. In June of 2015, Sunga formed Ukestra Seattle, a fourteen-member ukulele orchestra that plays everything from Beethoven to the Beatles.
Sunga picked up her first ukulele nine years ago and hasn't put it down since, which makes riding a bicycle somewhat awkward. She has been running her own studio and teaching group ukulele classes at Dusty Strings for seven years and is a certified instructor in the James Hill Ukulele in the Classroom teaching method. She has also run the Uke Jam with the Honeyville Rascals at Dusty Strings for over six years, providing fun and guidance for newer players. Sunga has taught ukulele, vocal performance and songwriting at the Northwest School's summer camp for the past two years, working with kids aged ten to sixteen, from all over the world. She also taught ukulele classes at the prestigious Puget Sound Guitar Workshop in 2016.
Sunga has been singing for as long as she can remember and has studied musical theatre, opera, and jazz. In addition to ukulele, she offers vocal lessons for non-singers who think they can't carry a tune as well as coaching for singers who are pursuing a career in music.
Ages: 7 and up
Levels: Beginning and Intermediate
Availability: By appointment
Online/In-Person: Online only
Rates: $45 for 30 min, $55 for 45 min, $65 for one hour
Website: sunrosemusic.com