Mitchell Wayne Hysjulien
Guitar, Songwriting, Voice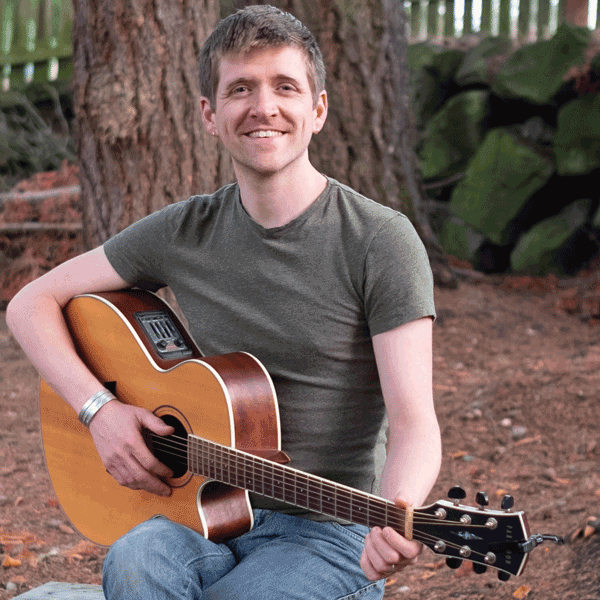 Everyone deserves to feel comfortable and confident playing music at whatever level they wish. Mitchell Wayne Hysjulien's (pronounced "hish-lin") primary goal is to cultivate a respectful, trusting, safe environment in his lessons so that students can learn to express their inspired selves in front of another. As a lifelong performer in music, theater, and dance, he is prepared to help expand students' comfort zones performing in front of a group, be it around a campfire, in a coffee shop, or on a stage. Mitchell specializes in teaching people who want to play or sing the songs they love to listen to and who maybe even want to write their own. Although his primary instruments are guitar and voice, Mitchell can also work with students of other instruments.
With each individual student, Mitchell listens to their specific interests and goals then develops a curriculum based on those goals. His lessons can include playing songs together, listening to and analyzing music, rudimentary exercises, music theory, and playing music with confidence.
A multi-instrumentalist, Mitchell picked up the guitar at age ten and by age twelve he had written his first song. He received a bachelor's in music and dance from St. Olaf College with a focus in theory and composition. Since moving to Seattle, he's played with the bands Landlord's Daughter and Helen America, as well as performed in numerous musicals around the city. He's composed and arranged works for voice, chamber groups, and rock bands.
Mitchell will forever be your cheerleader and champion and will make you feel happy that you decided to pursue music!

Ages: 12 and up
Levels: Beginner, intermediate
Specialties: folk, rock, songwriting, arranging, fingerstyle, strumming
Availability: Monday and Tuesday
Rates: $50 for 30 min, $60 for 45 min, $70 for one hour