Kat Bula
Fiddle, Guitar, Songwriting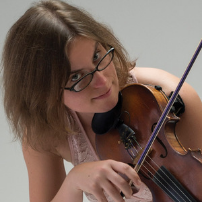 Kat is all about helping adult and teenage fiddlers learn to make music they like, with people they like. She emphasizes the skills needed to be a great collaborator in any genre, whether improvisation, music theory, or deep listening. She's skillful at helping students find and address psychological blocks that might be interfering with their playing or their ability to connect with other musicians. A veteran of multiple playing-related injuries, she's also become highly skilled at helping other fiddlers prevent and troubleshoot pain.
Kat's roots as a fiddler are in bluegrass, Texas, old-time/Midwest, and classical styles. Always in pursuit of expansion and new people to collaborate with, her performing career has ranged from contemporary country to metal, Western swing to pirate-themed folk punk. She's also an active session musician and tours regularly with a variety of artists. A singer-songwriter herself, she loves creating fiddle parts that support great vocalists singing great songs.
Kat holds a bachelor's in music from Western Washington University, with emphases in ethnomusicology, classical violin, and electronic music composition. She has won awards at numerous fiddle competitions, including the Northwest Regional Fiddle Contest and the Washington State Fiddle Contest. Since 1996, Kat has worked with hundreds of private students, as well as teaching at such events as California Coast Music Camp, Puget Sound Guitar Workshop, the Washington Old-Time Fiddler's Association Workshop, and the Bellingham Folk Festival. She's published articles on Mel Bay Publications' Fiddle Sessions, as well as on her own blog at katbula.com.
Ages:
8 and up
Levels:
All levels of fiddle, beginning guitar and songwriting
Specialties:
Bluegrass, Texas style, swing, music theory, improvisation
Availability:
Mondays all day, Tuesday evenings, Wednesdays all day
Rates:
$60 for 45 min
Website:
katbula.com