Erie Jones
Guitar, Ukulele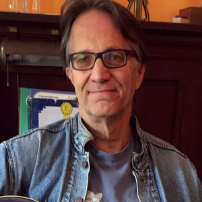 Erie specializes in working with young people. Each child brings something wonderful and different to the table and Erie seeks to engage with that while challenging students musically. Musical rigor, emphasizing creativity, humor and playfulness, are a significant part of the process. From the get-go, he teaches and supports creating music as well as performing it. When a student creates and (formally or informally) notates music, she gains a deeper understanding of her developing concepts and skills. One of Erie's main goals is to foster autonomy, whereby the student becomes his or her own teacher.
Erie uses tablature, staff notation, playing by ear, observation, audio recording, singing, and more—in whatever mixture best benefits the student. Erie plans for immediate success so his students can start making a joyful noise right off the bat. There is no one "right path" but there is a great feeling of "rightness" when students learn and produce music which grows naturally from their creativity and aspirations. In addition to playing music, Erie encourages and helps his students to create and write their own musical pieces.
Erie grew up in a musical household and has been playing music since junior high school. A former Seattle school teacher, he taught music the last several years of his career there. He's excited to now be in the middle of a second career teaching young people (and adults too) the mysteries and joys of the various fret boards.
Ages: 4 and up
Levels: All
Specialties: Children
Availability: Wednesday and Thursday afternoons and evenings, Friday afternoons
Rates: $40 for 30 min, $50 for 45 min, $60 for one hour