Eric Madis
Guitar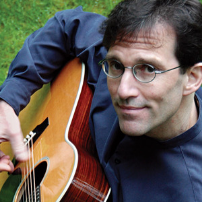 Eric Madis is a working guitarist, singer, recording artist and internationally-known guitar instructor. He teaches acoustic and electric guitar, fingerpicking, flatpicking, and bottleneck slide in jazz, blues, ragtime, country, and Hawaiian music. He also teaches music theory, improvisation and arranging instrumental sections for vocal songs. Eric feels that musicians need a mentor, someone who can answer their questions and help them to develop their playing to a performance level, whether the performance takes place on stage or just sitting on the edge of their own bed.
Eric began playing guitar at the age of ten and is a prolific solo, ensemble and session musician with five solo CDs and his music on four film soundtracks. He has performed with artists as diverse as blues legend Big Walter Horton, Hawaii's Farden Family, jazz ukulele great Bill Tapia, swing violinist Paul Anastasio and poet Nicki Grimes.
Eric graduated from the University of Illinois in 1975 and has taught guitar since 1976, privately and for National Guitar Workshop, Guitar Workshop Plus, Northwest Folklife, UW Experimental College, Denver Free University, Jamplay.com and Dusty Strings, where he teaches the monthly guitar class The Blues & Jazz Spectrum.
Ages: Adult
Levels: All
Specialties: Blues, country, Hawaiian slack key, jazz, R&B, rock
Availability: Thursday
Rates: $40 for 30 min, $50 for 45 min, $60 for one hour
Website: ericmadis.com