Debby Boland Watt
Voice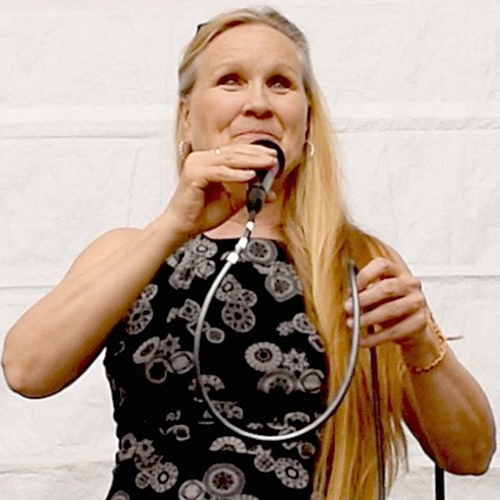 Debby is a strong vocalist, improvisational performance artist, coach, and master teacher specializing in vocal techniques and production for singers who are interested in all styles of music. Working nationally, with both beginning and professional singers, Debby has over forty years of experience performing across every state in the US as well as Canada and Western Europe. Debby has also performed on US and Canadian TV, recorded many audio projects as a studio musician, and directed numerous choirs.
"A vocalist unafraid to explore her instrument...in Jazz and beyond, Debby may quite possibly be the female Bobby McFerrin of Seattle! Her singing is reminiscent of Jay Clayton and other true pioneers of vocal improvisation." - J.R., Seattle, WA
As a classically trained singer having studied voice at Western Washington State University, Debby has since earned a master's degree in Vocal Improvisation and Composition from Goddard College and a Bachelors in Vocal Jazz from Seattle's Cornish College of the Arts. She has studied with Bobby McFerrin, Pauline Oliveros, Meredith Monk's Ensemble, and Kurt Elling, as well as other renowned musicians.
A professional singer herself, Debby enjoys teaching beginning students as much as advanced singers. Each personalized lesson is an experience in professional training using techniques that support genres such as classical, musical theater, pop, folk, gospel/choral, R&B, jazz, improvisation, spoken word, and experimental. Together you will address range, resonance, support, expression, tone, phrasing and diction, listening, and ear training towards accurate pitch and desired harmonies.
"...a master of the free will of sound, her Art of expression is boundlessly vast as she invents the undiscovered vocal vibrations of the imagination, highly impressive." J.B. Montreal, Canada
Both singers and songwriters alike will find Debby to be a gifted coach. From personalized warmups to encouraging prompts and feedback between takes, Debby is an invaluable addition to any recording session.
"What an amazing voice...what an incredible artist and such a pleasure to work with!" M.A. Seattle, WA
Until recently, Debby taught private voice lessons from her many Pacific Northwest studios. Teaching online, using Zoom, is now preferred. Online lessons have their advantages: encouraging ear training, allowing for recorded sessions, and help to establish a regular practice space while saving time and money on transportation. As a current Seattle area performer recently featured in The Seattle Times, Debby has quickly become the area's best-known facilitator for improvisational voice.
"The resonance of the different voices coming together buoyed moods, soothed anxieties, and turned a group of strangers into a spontaneous community." - The Seattle Times
Ages: Adults (under 16 years old with permission)
Levels: All
Specialties: Vocal Technique, Vocal Improvisation, Performance, Recording and Audition Preparation
Availability: Tuesday, Thursday, and Saturday by appointment
Rates: $95 for one hour
Website: debbybolandwatt.com