Audrey Goodman
Piano, Recorder, Songwriting, Ukulele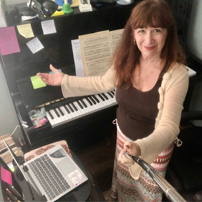 Audrey teaches both children and adults and tailors lessons to each individual student. She has great success with adults who have always wanted to play piano but have been afraid to start! With a gentle approach, she adds just the right amount of new material each week and offers students the opportunity to perform in a yearly recital. If you play by ear and want to learn the basic structures of written music to help you jam or transpose, Audrey can incorporate music theory into your lesson, as well! Audrey also teaches recorder (all tunings, children and adults), songwriting, and ukulele.
A gifted music teacher who has taught music in schools for thirty years, Audrey has led and arranged children's recorder ensembles and directed children's choirs and musical theatre. She is known as an innovative classroom educator and has developed successful music programs for children in private, parochial, and public elementary schools. Her classes for children culminate in a musical performance at the end of each session, where children perform songs and demonstrate the skills they've learned.
Trained on piano from the age of seven at the New England Conservatory of Music, Audrey is a published composer, songwriter, ASCAP affiliate, and performer. In addition to the wealth of experience she brings to Dusty Strings, she is also on the board of Songwriters in Seattle, a non-profit organization that fosters creative development, collaboration, music education, and performance opportunities for independent artists.
"We have had our children enrolled with Audrey for 7 years. In the last three months of online lessons, my children still are progressing well and have continued to love music." -Jane Yeh, parent
"We look forward to our piano lessons with Audrey every week. They are far and away the best structured education we have had in quarantine. It's so gratifying to watch the kids sign on and immediately engage with the material and Audrey. They are learning math, rhythm, music, and school skills all at once." - Molly Henry, parent
Ages: All
Levels: All
Specialties: Adult beginners, children, music theory
Availability: Thursday mornings and afternoons, Friday afternoons
Rates: $50 for 30 min, $60 for 45 min, $70 for one hour
Website: audreygoodmanmusic.com