Audrey Goodman
Piano, Recorder, Songwriting, Ukulele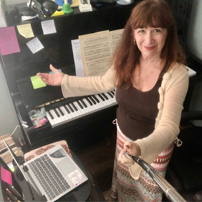 Audrey teaches both children and adults and tailors lessons to each individual student. She has great success with adults who have always wanted to play piano but have been afraid to start! With a gentle approach, she adds just the right amount of new material each week and offers students the opportunity to perform in a yearly recital. If you play by ear and want to learn the basic structures of written music to help you jam or transpose, Audrey can incorporate music theory into your lesson, as well! Audrey also teaches recorder (all tunings, children and adults), songwriting, and ukulele.
A gifted music teacher who has taught music in schools for thirty years, Audrey has led and arranged children's recorder ensembles and directed children's choirs and musical theatre. She is known as an innovative classroom educator and has developed successful music programs for children in private, parochial, and public elementary schools. Her classes for children culminate in a musical performance at the end of each session, where children perform songs and demonstrate the skills they've learned.
Trained on piano from the age of seven at the New England Conservatory of Music, Audrey is a published composer, songwriter, ASCAP affiliate, and performer. In addition to the wealth of experience she brings to Dusty Strings, she is also on the board of Songwriters in Seattle, a non-profit organization that fosters creative development, collaboration, music education, and performance opportunities for independent artists.
"We have had our children enrolled with Audrey for 7 years. In the last three months of online lessons, my children still are progressing well and have continued to love music." -Jane Yeh, parent
"We look forward to our piano lessons with Audrey every week. They are far and away the best structured education we have had in quarantine. It's so gratifying to watch the kids sign on and immediately engage with the material and Audrey. They are learning math, rhythm, music, and school skills all at once." - Molly Henry, parent
Ages: All
Levels: All
Specialties: Adult beginners, children, music theory
Availability: Thursday mornings and afternoons, Friday afternoons
Rates: $50 for 30 min, $60 for 45 min, $70 for one hour
Website: audreygoodmanmusic.com
---
"Delicious arrows to the heart": Audrey Goodman on her piano influences and how to learn a new piece
When were you first introduced to piano and what got you "hooked"?
A dear friend of my mom's, Bertica Cramer, was a concert pianist teaching at New England Conservatory. One day, she asked if she could give me piano lessons. She wasn't sure why, but she thought I would excel at it. I am grateful to her every day for reaching out like that. She seemed to have a sixth sense that not only was music something I desperately needed, but that it would influence and define me for the rest of my life. What got me hooked at the time, was the music of Beethoven, specifically. I couldn't stop learning his pieces and sonatas until I had mastered a good deal of them--in between Bertica insisting I also study Bach, Mozart, Rachmaninoff, and Chopin! I was fascinated by how notes swirled and danced around each other to create harmonies of pitch, and delicious arrows to the heart.
What is one of your most memorable experiences as a player?
One of my favorite memories as a player is when at age twelve, I assembled my family and closest friends in our living room to listen to me play the Moonlight Sonata. I can't remember any other time in my life when I was so proud of being able to play something such that I knocked it out of the park!
Do you have any good practice tips for piano players, or musicians in general?
With every new piece, begin your mastery of it by playing hands separate and slowly. Only play with hands together when each hand is comfortable with it's own part. And then play together SLOWLY for the first few days. It takes a lot of patience to learn to play something you love when you're first opening up that music. I know, we all want to play brilliantly right out of the chute, but the BEST performers in the world practice this way! It doesn't just magically fall out of their fingers, (well, okay, unless you're Keith Jarret, but he's all about improvisation!). Yizhak Perlman has an adorable video on YouTube stressing this point, and I encourage all to find it and believe him!