Adam Burdick
Voice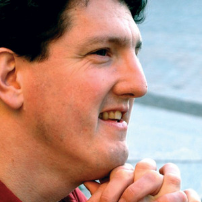 Too many people who love to sing believe that they are not good singers and have no hope that they can change. Many folks struggle with matching pitch, a.k.a. "being able to carry a tune in a bucket." Adam helps singers understand the practical steps of how to find the tune and sing it. Using thoughtful beginning-level vocal training, illuminating investigation of music physics and music theory, and study of how we use and mis-use our bodies, Adam helps singers learn how to sing the songs that inspired them to sing.
Dr. Adam Burdick is a teacher, singer, and conductor with a reputation for inspiring musical novices and veterans alike. He currently directs the College Choir at North Seattle College and is Artistic Director of the Skagit Valley Chorale. He teaches voice and sings freelance in the Seattle area and has conducted and directed choruses, opera, and musical theatre around the Puget Sound. Adam is a student of the body and its best use, particularly through his study of the Alexander Technique.
As a long-time student of singing, Adam is deeply committed to learning and developing his understanding of the "mystery" of the singing voice and sharing what he learns. He aims to guide his students in an exploration of their voices, their musical skills, and their bodies. A specialist in working with singers on how to "match pitch", or carry a tune, he especially enjoys helping unsure and hesitant singers discover the joy of singing.
Ages: All
Levels: All
Specialties: Alexander Technique
Availability: Thursday, Friday
Rates: $40 for 30 min, $50 for 45 min, $60 for one hour