Come check out our full selection of OME banjos!
(8/13/2019)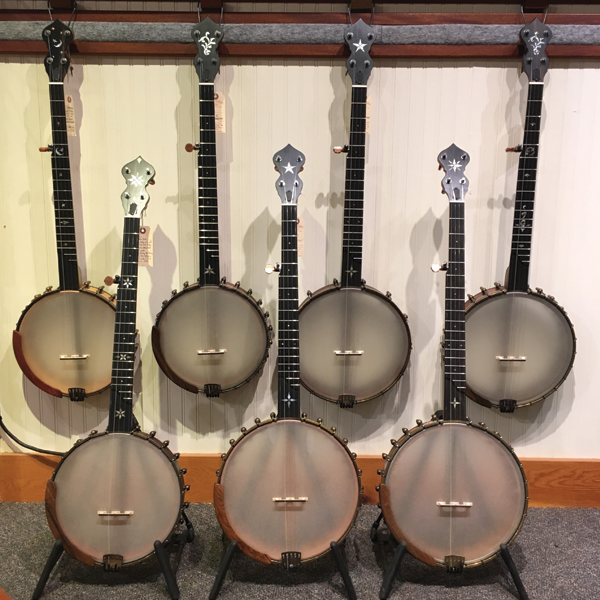 OME Banjos are a small, family-owned company specializing in building exceptional bluegrass, old-time, Irish, and jazz banjos. The models and styles have evolved since 1960 and have been continuously refined and perfected to create the finest possible tone, playability, longevity, beauty and value. Dusty Strings is proud to be OME Banjos' exclusive dealer in the Pacific Northwest.
The woods used in OME banjos are carefully selected, thoroughly air-dried, and skillfully matched. Vibrant curly maple chosen for its superior tone, flexible strength, and unusual beauty form the neck, rim, and resonator of most models. Resonant and responsive South American mahogany is standard on many Vintage and Professional Series instruments while North American walnut and Indian rosewood are available on a special order basis.
Great care is exercised during the final assembly of every OME, as wood and metal parts are precisely hand-fitted together. Final set-up and adjustment are patiently checked and re-checked to ensure proper fit, tone, and action. An arched-top, hard-shell plush-lined case and the OME limited lifetime warranty are included with every OME instrument.
Currently, we have Alpha, Flora, Jubilee, Juniper, Mira, Phoenix, and a Wizrd Custom in stock. Click here to view and learn more about these models then come on down to play them for yourself!